COVID-19 UPDATE: We are open for business and operating as close to normal as possible, whilst meeting all of the government's safety guidelines. Our couriers are still operating normal services too.
Gorilla Tubs (Red Gorilla)
Gorilla Tubs - now branded as Red Gorilla. Superior, heavy duty tubs & buckets for construction. Made from low density polyethylene. Buy Brand Tools are proud to supply the full range!
Free UK Delivery
When you spend over £100 (Ex VAT)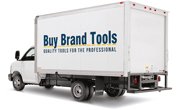 Economy delivery = £5.40
(small & low value items only)

Next day delivery = £7.14
Orders £100 and over = FREE!
Full UK Delivery Info
World Delivery
European Deliveries
from just £12.29 (1kg)European Delivery Info
Worldwide Deliveries
from just £15.29 (1kg)Worldwide Delivery Info
Service You Can Trust
Scott, and his small team of friendly customer service advisors work extremely hard to ensure that your order is delivered when you expect it. Scott is available to answer any enquiries you may have.