COVID-19 UPDATE: We are open for business and operating as close to normal as possible, whilst meeting all of the government's safety guidelines.
Buy Brand Tools - Contact Us
Our opening hours are:

Monday: 8:45am - 5:00pm
Tuesday: 8:45am - 5:00pm
Wednesday: 8:45am - 5:00pm
Thursday: 8:45am - 5:00pm
Friday: 8:45am - 4:30pm
Saturday - Sunday: CLOSED
Bank Holidays (England & Wales): CLOSED



Tel: (0114) 251 3535

Fax: (0114) 251 3422

Call our friendly sales advisors, based at our offices in Sheffield. NO automated systems, speak to a real person!



Email: sales@buybrandtools.com

You'll receive a reply from one of our sales advisors within one working day. The same sales advisor will then deal with your enquiry through to completion.



Write to: Buy Brand Tools, 9 Meadowbrook Park, Station Road, Sheffield S20 3PJ
Free UK Delivery
When you spend over £100 (Ex VAT)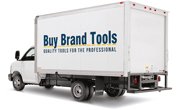 Economy delivery = £5.40
(small & low value items only)

Next day delivery = £7.14
Orders £100 and over = FREE!
Full UK Delivery Info
World Delivery
European Deliveries
from just £12.29 (1kg)European Delivery Info
Worldwide Deliveries
from just £15.29 (1kg)Worldwide Delivery Info
Service You Can Trust
Scott, and his small team of friendly customer service advisors work extremely hard to ensure that your order is delivered when you expect it. Scott is available to answer any enquiries you may have.