We know the scenario. You're preparing dinner for a special occasion and you're looking forward to using your fanciest china or glassware. You reach inside the cupboard and notice that a glass has been chipped.
While many people will opt to throw the glass away and replace with a new set, you should know that many small chips and cracks can be fixed and repaired to a standard that's just about invisible.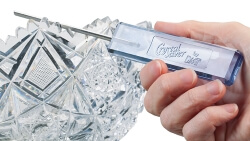 Types of Chips & Scratches
When working out how to repair chipped glass or china, it's important to first establish what type of mark has damaged the glass. For smaller nicks, the repair can usually be done at home with a product like a Crystal Saver. For larger chips or cracks, you may need the help of a professional to provide the repair you're looking for.
Repairing Nicks & Scratches
You can opt to tackle small nicks yourself with a crystal file, like the DMT Crystal Saver. These types of sharpeners work well to smooth any rough and chipped edges, providing an as-new finish. The Crystal Saver by DMT can be used dry or with water and features a coarse diamond (45 micron / 325 mesh); meaning repairs are completed quickly and help smooth over chipped edges of crystal, china, ceramic, glassware and many other hard materials.
It's still likely that repairing glassware chips in this way will still be noticeable under closer inspection, so make sure you read any instructions for using a Crystal Saver before you repair a chipped glass rim and understand the level of repair provided by these types of products.
Repairing Chips on Glass
To repair a chipped glass edge, you could opt to send the damaged piece to a professional crystal repair service.
A professional will be able to restore the rim of the glass to provide an evenly filed down finish until the chip has disappeared completely. You may notice that the other glasses in the set will be marginally thicker than their repaired friend, but when set on a table, you probably won't be able see a difference. Tiny cracks can also be filled with a sealing compound.
Larger Chips & Cracks on Glass
Large chips and cracks and actual breaks in the glass can be repaired so the item looks whole, but these repairs aren't recommended for drinking glasses. This is because any repair will add a weak spot in an already delicate area that may give way during use. A repair of this size is best suited for larger glassware, such as vases and platters.
© 2019 Buy Brand Tools